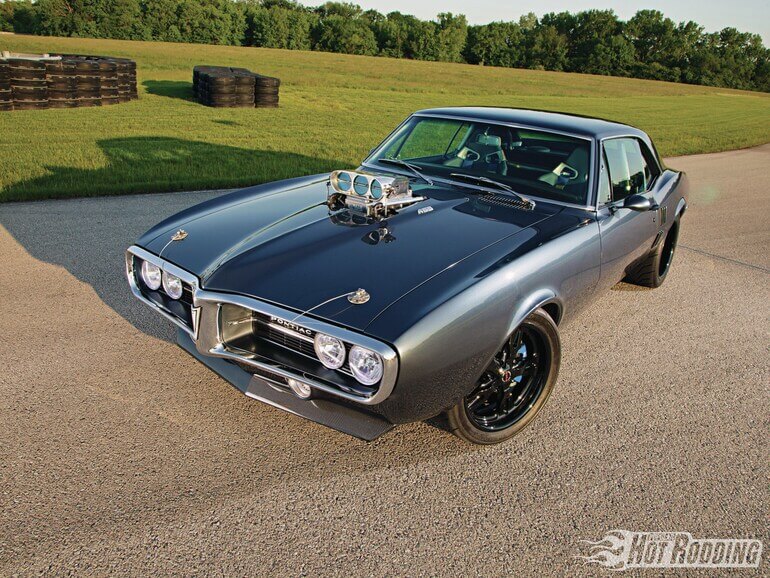 If the goal was stealth, then we don't know how well that was really achieved. Mike Ardito of Tri Power Automotive of Libertyville, Illinois, says a "stealth" look was what car owner Pete Krehbiel was shooting for when he originally commissioned Mike and his crew to build this Firebird. Well, the blown '67 Pontiac showed up on PHR's radar as big as a B52 bomber with an incredibly aggressive "get out of my way" rearview mirror factor and "see you later" rear end.
The project began simply enough three years ago when Pete acquired the Firebird after a late-night session involving eBay and a couple of cocktails (you know, you've all been there). He'd never been much of a muscle car guy, but the 'Bird sang to him and he wanted to build something a little different. He hooked up with the gang at Tri Power to begin a complete transformation from squeaky cruiser to agro bruiser.
With a name like Tri Power, you have to figure those guys know a little about Ponchos, and they do. Mike and his partners met up through local Pontiac cruise-ins and car shows, and later expanded their love to the Tri-power Corvettes. When they decided to put their love of car building to a full-time career, there was no better name for the three guys than Tri Power. They've been building everything from resto Indy cars to Rolls-Royces to high-powered street rods, but this was their first foray into the Pro Touring genre. Not a bad first step.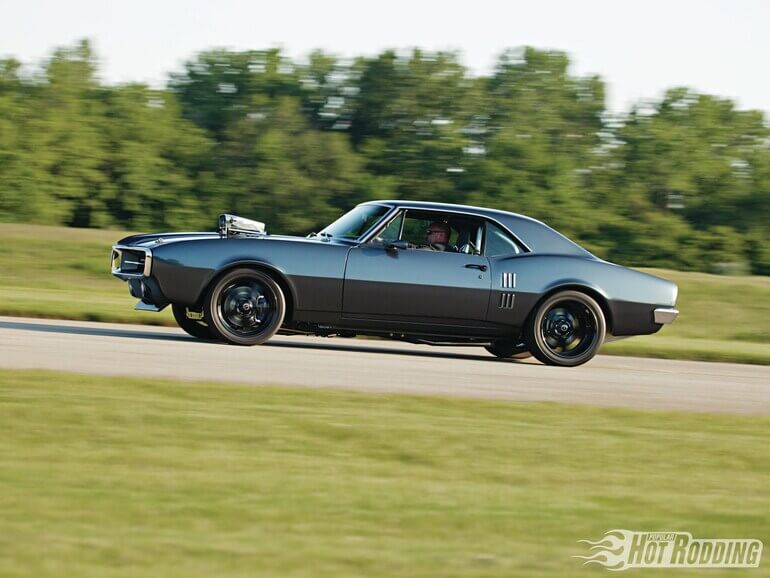 The body is a mix of old meets new from top to bottom and front to back. Classic Coke-bottle '60s styling is what makes the overall silhouette universally appealing. A dedicated effort to modernize and tighten up the fine lines is what really makes the car shine though. Starting at the front of the car, Pete mentioned that he loved the front valence and parking lights of the '69 Camaro and wanted to somehow incorporate that look into the 'Bird.
Mike took that Camaro valence, cut and trimmed it, and fitted it with HID parking lights to brighten up evening drives. The problem they immediately discovered was that the top of those lights then ended up being covered up by the signature Firebird front bumper. Of course, the next step then was to narrow the bottom of the bumper 2 inches to clear the lights, which had the added effect of a more modern front end.
Typical car build progression, "A leads to B leads to C leads to …" That theme of localized updating continued up front as the old-school 5006 headlights were scooted out in favor of bright, white HID lights with an electric-blue accent surround light.
On the main body, they wanted to keep that signature look, but clean it up some. Mike described their mods: "We eliminated all the seams around the tailpanel, the upper quarter-to-deck panel, the fender-to-lower-front-corner valence pieces." There were some other subtleties that, unless you were a Pontiac guy, you might not notice. "On the louvers on the sides, I never liked those little trim pieces that the Firebirds had. They look cheap to me.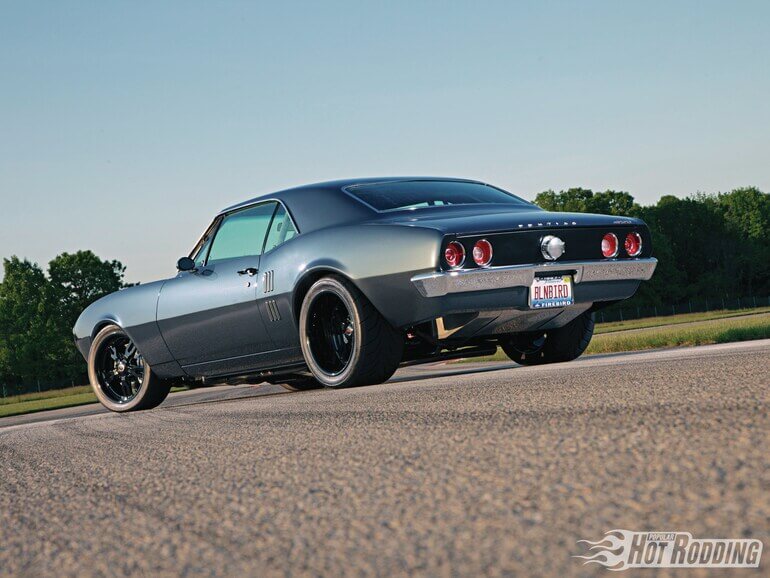 I was going to make some aluminum ones and polish them and have them inset to follow the same shape of the louvers that are there. Then I came up with this idea—I've got a '65 Pontiac 2+2 that's got these louvers on the fenders. I took one of those and flipped it around backward, and it actually fit the contour of the body and was the exact height as the louvers on the quarter so I put those on and eliminated the holes for the other louvers, and it gave it a look like a functional brake airscoop."
Wrapped around the now-flawless body is a shade of paint that took a bit of effort to arrive at. Pete recalled the push and pull; during the build process the car sat in bare metal for almost two years and the guys at Tri Power fell in love with the look. Problem was, Pete wanted something with a blue or purple hue. "The color that it is now is actually a compromise between those two. It's actually a Bentley paint.
The guys said go down and look at the Ferrari colors and the Bentley colors because those are the highest quality paints. So I was laughing because there I was with my face pressed up against the windows of the Bentley dealership looking at colors." The final finish is deceiving as it picks up shades of its environment, reflecting a changing variety of blues, grays, and purples, depending on the observer's point of view and ambient light
Pete's background as a road racing automotive engineer screams function over form, but they managed to balance the two when designing the interior. Aircraft-style gauges from Classic Instruments brought a clean, utilitarian look, but they wanted to add a few extras that weren't in the catalog.
That meant the boys at Tri Power had to make their own matching bezels for the addition of a stopwatch, acceleration/g-meter, air/fuel meter, and boost gauge. What brings the cool factor up even higher is that those boys don't use a CNC mill just punching in numbers, they are old-school true machinists making those parts on a manual mill and lathe.
Looking closer at the interior, the spartan carpet screams "race car" especially when sitting in the hot seat and glancing down at the lack of a center console, a clean leather shift boot, and handmade boot bezel. Hiding beneath and directly attached to the custom shifter lives not an old Muncie, but a totally tricked out Tranzilla T56 six-speed.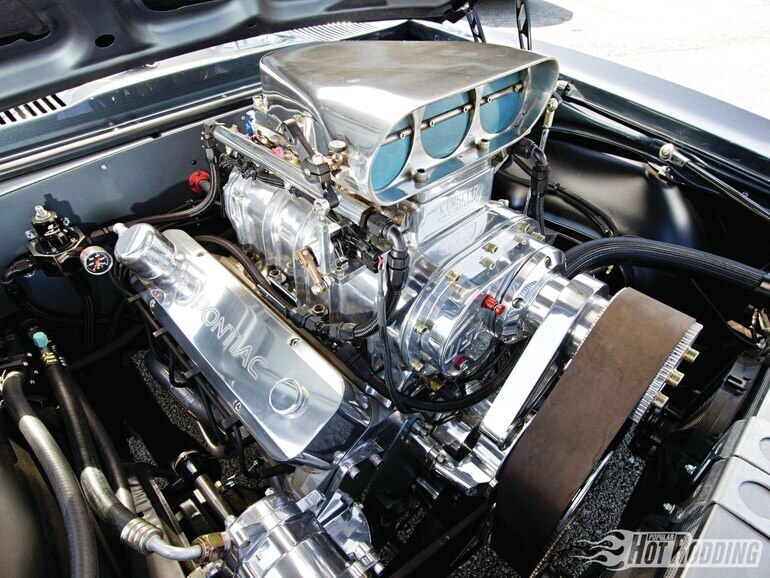 A more pedestrian car builder might cut a wide berth in the transmission tunnel to fit the big overdrive tranny, but Ardito managed to sneak it in with a little mild persuasion. "I didn't want to have a console or anything there. If you're familiar with those F-body cars, they have a flat tunnel where the shifter would be.
What I did was round out the tunnel without cutting anything, and we also gave it room for the transmission. What they tell you is to pie cut the tunnel and raise it up in sections and the sides. All I did was round out the tunnel and dollied it all the way to the rear, and it gave me all the clearance I needed without cutting anything."
In order for that transmission to work, the car needed something out front to spin the input shaft. Something like, oh maybe a roots-blown 468-cube Pontiac. Why think small? The job of creating that powerplant was given to Automotive Engine Specialists of Elk Grove Village, Illinois.
Pete made it known that he wanted a bunch of power and that he was used to the very linear power curve of his previous road cars. After a little "scope creep" as they say in the project management biz, the engine ended up with a big ol' huffer sticking out of the hood.
A bird catcher for the 'Bird, one might say, the net effect of which, Pete says, is that the power comes on so hard it's like an on/off switch. Maybe not the best compromise for a road racer, but it sure as heck can leave a pair of black marks a quarter-mile long at will.
The only way Pete can tame such a wild 'Bird is with a killer suspension. DSE has been dominating the autocross tracks across the nation, partly because their stuff looks trick, but mainly because it works. Pete had Tri Power install DSE's Quadra-Link four-link rear suspension in place of the horse-and-buggyera leaf springs. Between that and the matching DSE front suspension, they can dial in the chassis for track days or soften it up for street cruising.
The final result of these efforts is a truly custom ride that is anything but stealthy. In fact with 650 horses on tap, it's a hard job to keep this 'Bird flying under the radar of anyone within three counties, let alone sneaking by those boys in blue.